Kingston entered the market in 1987 with just one single product. With their storage module which redefined the industry's standards for years to come, the founders John Tu and David Sun rectified a serious defect in interchangeable storage chips.
Since then Kingston has developed into the world's largest independent manufacturer of storage products. With headquarters in Fountain Valley, California, Kingston employs more than 3,000 employees around the world.
Reliability is the cornerstone of Kingston's product strategy. It plays a key role in the development and cultivation of long-term business relationships with clients. Kingston pursues the goal of exceeding the industry's standards in terms of detail, product quality and product reliability.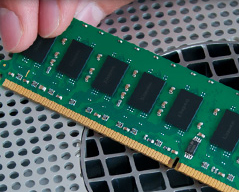 Reliable storage media for your server, desktop, notebook or computer
Server storage
Selecting the right storage media for your server is just as important as choosing the right manufacturer. Kingston server storage media feature the highest levels of reliability and a reduction in your overall operating costs. You can select them by brand or by technical criteria, so that you can buy the RAM that suits your needs.
Desktop / notebook storage
High-quality components. Strict test procedures. Lifetime guarantee. Just three of the many reasons why it is worth choosing Kingston storage media for your PC or notebook.