Welcome to SanDisk
Technologies you can rely upon

For over 27 years SanDisk has been shifting the boundaries of digital data storage with pioneering products and ideas over and over. SanDisk's flash storage technologies are used in the world's leading data centres and in the most advanced smartphones, tablets and notebooks. Consumers around the world trust in these products. From the handheld device to the hyperscale data centre – SanDisk opens up new dimensions in data storage.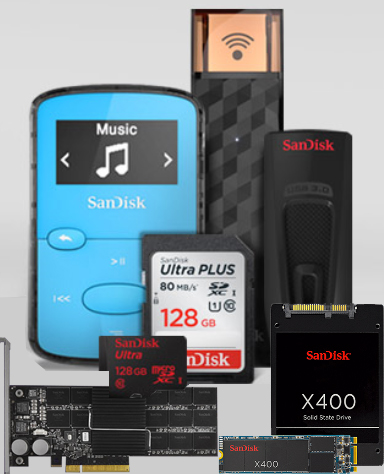 The pathfinder for the future of data storage
The quantity of digital content, which is already enormous, is increasing ever more rapidly. Whether it is for mobile devices or data centres, SanDisk helps to ensure that data are reliably available, even in the most challenging environments. SanDisk has also set itself the task of enriching the life of its customers with its digital storage solutions. Since 1988 companies and consumers throughout the world and in a wide range of sectors have been relying on the storage solutions of SanDisk.
Data centre solutions
Progressive flash technology for data centres and Cloud systems.


Data processing solutions
Solid State Drives for desktop computers, laptops and ultra-thin PCs


Mobile device solutions
SanDisk supplies all the major mobile device manufacturers with its embedded storage solutions.


Entertainment electronics
Storage solutions for cameras, USB flash drives and MP3 players