Since its establishment in 2000 Synology has pursued the aim of developing high-performance, reliable, versatile and environmentally friendly NAS servers. Besides this core area, Synology also develops solutions for surveillance and network infrastructure, which all feature an intuitive, web-based operating system. The result is that agile, cost-effective and individually tailored solutions are provided for a range of clients from private users to medium-sized companies. Alongside the excellent products the focus is on local, competent support throughout the whole product lifecycle, from the initial advice to technical support.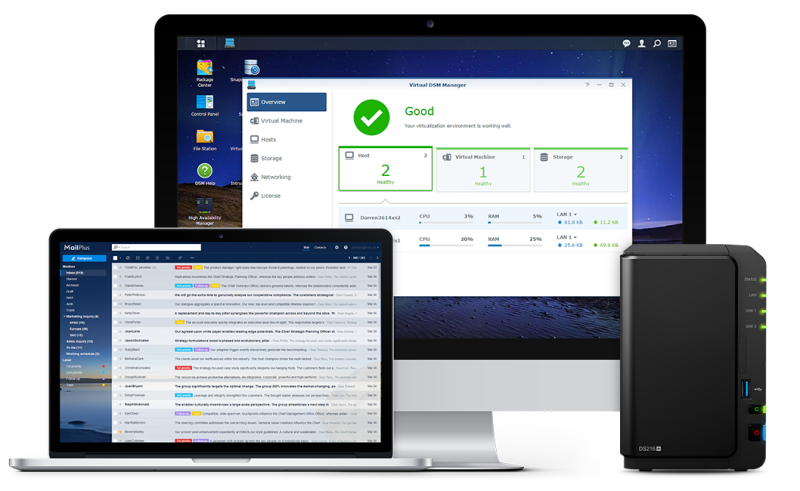 Synology provides a wide variety of solutions for you
Synology NAS units are suitable for many different types of use, and excellent as an easy to administer, all-in-one server. Some of the main areas of use are:
The private Cloud: Convenient data access at all times and all locations via all your devices. And your data are kept always up to date. The best thing about this is that the data are where they are most secure: in your possession.
Data backup and data security: Adaptable and flexible storage space makes Synology NAS units the perfect choice for data backup from every device. With the SHA automatic failover mechanism, you will not even notice if a system failure has occurred.
MailPlus: Synology gives you the option to set up a secure, reliable, private email server, and also provides you with a modern email client, without your having to rely on third party services. When you are on the move we offer the MailPlus app for iOS and Android.
Surveillance Station: Synology provides intelligent surveillance and video administration tools which help you safeguard all the important sites in your life.